General contractor in kitchen bathroom renovation in Montreal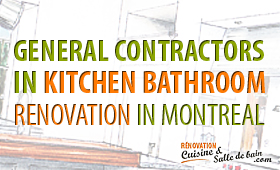 The Kitchen Bathroom Renovation Montreal Group, under the direction of Mr. Daniel Dargis, Engineer and RBQ general contractor since 1989, includes several general contractors who work as a team with experienced interior designers. The consortium of Montreal entrepreneurs allows to become better known by covering a larger area of more than 100 km around Montreal. A qualified and experienced RBQ licensed contractor will handle your project with care. The renovation of the bathroom usually requires a meticulous work that a licensed and experienced general contractor of our group offers.


All of our Montreal general contractors in new construction and renovation are RBQ licensed and have successfully passed the technical qualification examinations in construction, administration and worksite safety. They were, moreover, selected by Mr. Daniel Dargis, Engineer and member of the Order of Engineers of Quebec, for the quality of their work, meeting deadlines and attention to customers. You will certainly find a trustworthy general contractor among our group.

In our group a general contractor will meet you to take care of the entire project from A to Z from the estimate through the search and procurement of materials, the organization of work in general, project management and he even gives you tips to save money on the project. As soon as you have completed the design work with one of our designers a general contractor goes there to meet you, see the workplace and take all the necessary information to provide a bid to you. A general contractor of our group with experience in kitchen and bathroom renovation is the right person to carry out your project well in Montreal region.

Whatever the amount of work, a general contractor will take care of the project of renovation of kitchen or bathroom such as: installing ceramics, change wardrobes, moving walls and expansion of space, changing of the bathtub, installing a concrete countertop, adding a window, design, demolition and complete reconstruction of kitchen and bathroom. In our group a general contractor can meet your needs over a wide area in and around Montreal, such as Laval, Blainville, Terrebonne, Mirabel, Saint-Jerôme, Kirkland and the West Island, Vaudreuil, Saint-Hubert, Longueuil, Brossard, Boucherville, Beloeil, Repentigny, Châteauguay and Mercier.

Do not hesitate to contact us!