Plan design and renovation of modern bathroom in Montreal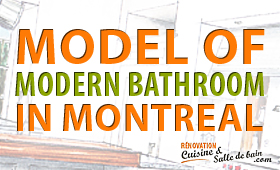 Our group takes care of the modern bathroom design by enlarging the space to allow light coming in through better windows, by adding a new bathtub, a large shower in the wall, a concrete countertop. A team of experienced designers and renovation general contractors accompanies you from A to Z in the design and renovation of your new water room in Montreal.
Expert in the design of the bathroom
It is important to start off right. A designer goes on site to meet you and gather information that will be used to design the modern Montreal bathroom. It is advisable to let one of our design experts do his work who, with a little budget, will take care of:
collecting all the information: tastes, budget, ideas in mind, images, photos, references on the Internet;
making sketches of proposals;
finding the materials and imagining the design elements to decorate a new Montreal water room;
making plans and estimates for the contractor;
even directing the renovation work.
Materials and components of a bathroom
An experienced designer will give proof of his imagination to imagine a new affordable Montreal bathroom using basic materials such as: concrete, wood, glass and metal. Concrete has become an ideal material for bathroom renovation to create countertops for several reasons. It is very versatile as to colors and shapes allowing to imitate marble, wood or even leaving its raw form. It is ideal for the modern bathroom with rustic wood, plants and large fenestrations allowing plenty of natural light to penetrate. A new bathtub, a standing sink, new faucets, soft lighting, will completely transform your modern bathroom into a dream location.
The Montreal bathroom contractor
With all the clear and precise information at hand from the designer, one of our contractors will be able to easily provide an estimate by visualizing well the new modern Montreal bathroom.
In a few days' time the new contemporary modern Montreal bathroom will be a reality.

Do not hesitate to contact us!