Model design and renovation of modern kitchen in Montreal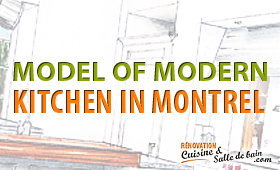 The Kitchen Bathroom Renovation Montreal group of entrepreneurs and professionals in interior design completely handles your modern kitchen renovation project. Whether it is through our services of designer, works or supply of materials and equipment, we take care of everything while offering designs that will amaze you and ensuring respect for your tastes, budget, quality of work and schedule. With Kitchen and Bathroom Renovation Montreal you are in good hands.
Modern kitchen and information gathering
You have probably already accumulated a lot of information on the kitchen Montreal of your dreams. You have lots of ideas in mind and now it is time to call in the experts of Kitchen Bathroom Renovation Montreal to make your project a reality. A modern kitchen renovation project normally begins with a visit to a designer who moves to meet you at home in order to:
Listen to you to understand your tastes, your objectives and the budget to be met;
Collect the information you have assembled which will serve as a basis for the design of the modern kitchen: house plans, sketches, images, photos, references on the Internet.
Verify well, on the premises, the space available to better understand the potential of creating a beautiful modern kitchen;
Evaluate the possibility of changes in Montreal renovation by moving walls, doors or windows.
At Kitchen Bathroom Renovation Montreal creating a modern kitchen is a team effort between our designers and renovation specialists who work together to meet your budget and your schedule and who provide the design and impeccable quality of work.
Kitchen and interior design in Montreal
Once your needs are well understood and the information has been collected the interior designer works on design proposals of a modern kitchen to show you. Unlike most designers, at Kitchen Bathroom Renovation Montreal all our designers work as a team with our renovation contractors in Montreal in order to ensure the feasibility of the project while respecting the budget. Many designers have great ideas and images, but they are expensive once delivered into the hands of the renovators. We ensure that the project options to be offered will be to your liking, achievable and affordable.
A modern kitchen can include:
A granite countertop area or a cement counter made on site;
Openings in walls and large windows for better lighting;
A portion of a plant wall in the kitchen and dining room space;
A projected or diffuse lighting design on the floor;
A wooden or floating floor.
It is possible that a few meetings are necessary for you to allow you to retain a proposal from those presented. Once the proposal is accepted you are guaranteed to meet your budget because one or more of our modern kitchen renovation Montreal contractors has/have previously worked with the designer on the budget price.
The well-fitted proposal includes:
Sketches and plans;
An estimate;
A list of materials and accessories with the price and the reference of the places where to get them.
This information will be very useful to the Montreal contractor to propose a specific price, fixed and turnkey and to set the work stages.
Modern kitchen and renovation works
Work can then begin for the modern kitchen of your dreams to become a reality.
The contractor shall organize the work of the future modern kitchen to suit your availability and ensure that the work does not affect your everyday routine. It may be that for a few days all the usual comfort is not accessible because in some cases it is necessary to demolish and rebuild the space to allow for the installation of cabinets, countertops and other accessories. However, the utmost care will be taken for tidiness and respect of the timelines to help plan a better experience between the works of the new modern kitchen.
The Kitchen Bathroom Renovation Montreal team takes care to organize your work well by ordering the cabinets and equipment in advance so that only in a few days after the start of the works the new modern kitchen of your dreams is completed.
Do not hesitate to contact us!